Interview | Theresa May has spent her summer holidays in Zermatt for over 20 years. Why?
«Here the worries of everyday life are far away»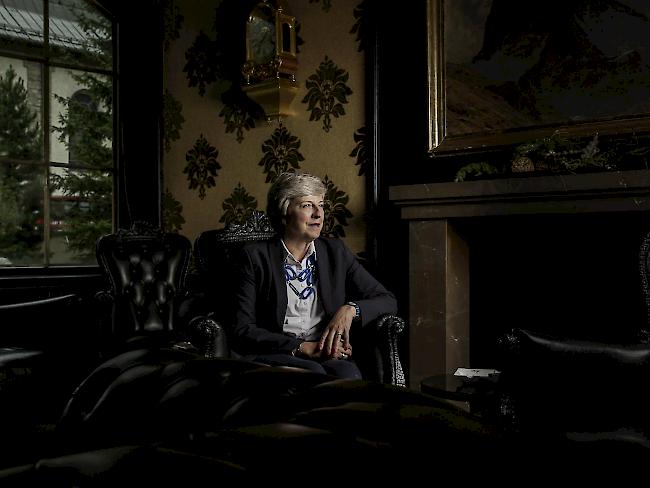 The former British prime minister surprisingly granted an interview request to the «Walliser Bote». The only condition: no questions about politics. It became a conversation about Zermatt and hiking, why she has no summit ambitions and how the Upper Valais Mountains encouraged her to get involved in the environment. Theresa May and her husband Philip welcome us in Prato Borni, Zermatterhof gourmet restaurant.
Theresa May, there are so many beautiful places in this world. Why Zermatt?
«Hiking in front of this scenery is simply great. Add to that the good food, the wine, the Swiss hospitality - all this makes Zermatt a wonderful place to spend holidays.»
For more than 20 years, you and your husband have been coming regularly to the Upper Valais. Which was the main reason that made you come here for a first time?
«We had visited Switzerland before. We have been to Lucerne, to the Bernese Oberland, and to Ticino. In the past we were often in Davos, but the weather there did not suit us (smiles). Then we discovered Zermatt, which is located at 1600 meters of altitude. This also means that the hiking routes are higher, the views are better. And then all these mountaintops all around.»
The alpinists, who in the 19th century discovered these mountains as a destination and therefore also tourism, were British.
«Of course, it makes me proud that the first male climber, Edward Whymper, and the first female climber of the Matterhorn, Lucie Walker, both came from England.»
The story of Lucie Walker is currently being told in an open-air theatre on the Riffelberg. Have you seen the performance ​​«Matterhorn - No Ladies please»?
«No, unfortunately not. But I have read about it and I did not know the story of the first woman on the Matterhorn before. I found it very fascinating.»
Are there any specific peaks that you would like to climb?
(laughs) «My husband and I are passionate walkers, not climbers.»
But while hiking, she looks at the peaks.
«Yes, everyone looks up and thinks, 'It would be nice to do it.' But you should not underestimate it. A climb, for example to the Matterhorn, is dangerous. You need to know exactly what you are doing. And you need to be very, very fit. We are healthy and fit to enjoy the beautiful walks. And the beautiful views of the mountains.»
When you are here and the weather is good, you are out and about every day. What does walking mean to you?
«There is so much to discover. Recently we have walked from the Blauherd over the Ritzengrat up to Unter Rothorn, and you can see the Edelweiss growing, all the flowers, and the fresh air. Here the worries of everyday life are far away, I can switch off. In England, we say, 'You get away from it all.'»
When hiking one also sees the glaciers melting. Do you ignore topics such as the climate change during your holidays or do you also deal with them here?
«Under my government, we decided to legislate to reduce greenhouse gas emissions to net zero by 2050, we are the first major economy to ever do that. And when I was asked publicly why this topic, global warming, was so close to my heart, I answered: 'because I see it every year here in Zermatt, glaciers are melting and nature is changing.'»
Do you pursue concrete projects in this area?
«No, not in a specific organization. But as a Member of Parliament I will continue to engage myself for the environment at the British House of Commons.»
Do you sometimes miss 10 Downing Street? Your departure was very emotional.
«Well, that's politics. It was a great honour and responsibility to be Prime Minister for three years. As a member of parliament, I will now represent the people from my Maidenhead constituency in the lower house. This task is also a privilege.»
Back to Zermatt: Which are your favourite routes?
«I like the way from the village to the Gornergrat. Or the hike over Hohbalm ...»
... where you regularly visit the mountain inn Trift. Here in the village, it is said that in the summer when you became prime minister the landlord greeted you with the laconic saying: 'Hello Theresa, I've seen you have a new job.'
(laughs) «Hugo Biner, yes. But honestly, I can't remember this episode. You would have to ask him yourself.»
The story, whether it is true or not, shows above all that you are perceived as very down-to-earth person. Can you move freely in Zermatt?
«Swiss people are very reserved and have great respect for privacy. But there are also many tourists from England, China and many other countries. It sometimes happens that one is asked for photos.»
And do you fulfill these wishes?
«Yes, most of the time.»
Interview: Norbert Zengaffinen and David Biner